Arby's Reinvigoration
Arby's has rebranded and redesigned, leading to a breakthrough in sales growth, driven by traffic from a new generation of guests
Arby's is on a massive winning streak. Same-store sales have grown for more than 20 consecutive quarters. Nation's Restaurant News estimates our restaurant franchise had the largest AUV growth in the entire sandwich category in 2014. Fortune lauded our growth with an article titled "How Arby's (Yes, Arby's) Is Crushing It."
"Arby's is really positioned well now and for the future."
"I think it's just because the Brand's on fire right now," says John Davis, CEO of U.S. Beef Corp., Arby's largest franchisee. "Other QSR brands have really been stagnant in sales growth and unit growth. Arby's is really positioned well now and for the future."
When CEO Paul Brown joined Arby's in 2013, he saw a restaurant franchise with vast growth potential, thanks to its intersection between QSR and the sandwich franchise category. Sandwich franchises have enjoyed strong growth, and Arby's enjoys a huge advantage within the category: drive-thrus that allow us to generate a higher volume of sales without the need to turn over tables.
Get Our Free Executive Summary In Your Inbox
He also saw a Brand with a legacy of delivering delicious sandwiches, which offered a variety of proteins. That variety could serve as a launch pad. Why not emphasize our full range of offerings?
We Have the Meats®
In 2014, we launched an award-winning advertising campaign that uses edgy humor to hammer home the diversity of our menu and the quality of our meats. The ads are startlingly simple. They show food. Good food. Our food. The tagline, "We Have the Meats," makes it clear — we're not just a place to get a roast beef sandwich.
Every day at Arby's, we serve at least eight different meats, and we're proud of every one. Our commercials give guests a close-up look at the quality and care that goes into their meals. The ads are straightforward, unassuming, and funny.
"It is really, really resonating with not only the core guest base, but with the younger guest base," says John Davis, CEO of U.S. Beef Corp., which owns more than 330 Arby's restaurants.
Younger guests have responded in droves to our emphasis and our marketing efforts. From July 2012 to June 2013, 38% of our guests were ages 18 to 34. Two years later, that percentage had climbed to 54%. We're winning new guests, and they are overwhelmingly younger guests that Arby's will have the chance to serve for decades.
Building on momentum
Our marketing has been driven by an aggressive pipeline of limited-time offers, which are market-tested to ensure they entice guests and can be profitably delivered.
Arby's Brand President and Chief Marketing Officer, Rob Lynch, left a larger QSR competitor in 2013 to join Arby's. "The reason why was because I saw a ton of upside," he says. "We've had, now, an unbelievable run, and everyone continues to wonder, 'Okay, well, how high is high, and where's the top?' I can sincerely say that we're not even close to the top and that the runway is still really long."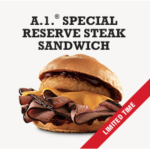 "We're a sandwich company that is grounded in protein and meats — that allows us to develop anything we want. We're not stuck to burgers, we're not stuck to tacos, we're not stuck to pizza, we're not stuck deboning chicken. A sandwich can be anything to anyone, and so our palate is infinite.
"We have a hundred qualified ideas right now that haven't even made it to the menu. We're planning a year and a half out. One of my biggest challenges is, when I let the franchisees taste some of the food we are developing, they say, 'We have got to get this on the calendar next month!' It's a really good problem to have, to tell them, 'Well, we already have fourteen great ideas for the next fourteen months. This is going to have to be fifteen months away.' We have a lot of confidence in what the future has to hold."